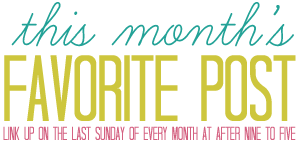 It's the fourth month of the favorite post link-up! This month there are a couple of new guest hosts joining the mix that will have the link-up on their blogs as well to spread the love even further throughout the blogging community. Be sure to check out their blogs to find out their favorite posts this month!
This month's hosts include:
Ashley from After Nine To Five / Megan from And Here's To You, Mrs. Robinson
Tricia from Mama Marchand's Nest / Andi from The Hollie Rogue
My favorite post of the month is:
How To Grow Your Blog Audience
JOIN US BELOW!
If you're interested in hosting, please send me an email at
afterninetofive@gmail.com
and I'll get in contact with you when we have an opening!