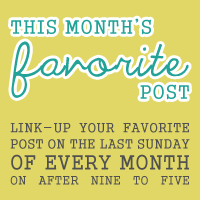 It's the sixth month of the favorite post link-up! Be sure to check out all of our hosts and their blogs to find out their favorite posts this month + find some new blogs to read in the link-up!
This month's hosts include:
Ashley from After Nine To Five / Megan from And Here's To You, Mrs. Robinson
Nay from Cover to Cover and Everything In Between

My favorite post of the month is:
Giving Up The Blog I Should Have
JOIN US BELOW!
If you're interested in hosting, please send me an email at
afterninetofive@gmail.com
and I'll get in contact with you when we have an opening!