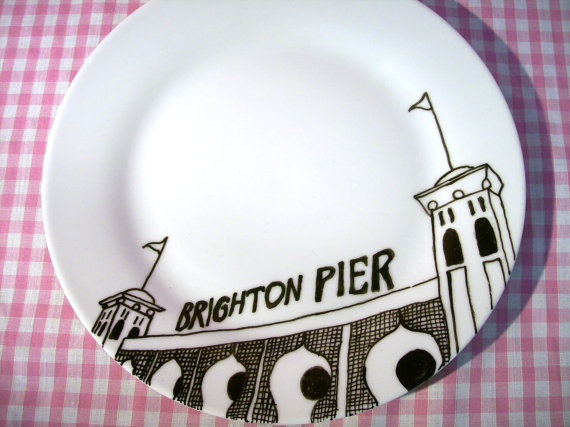 Your blog/shop name + link: Brighton Crock // www.etsy.com/shop/BrightonCrock
What can we find in your blog / shop? Hand drawn plates, teapots & mugs and other seaside art.
Where do you find your inspiration for your products: The seaside and Brighton in particular is very inspirational. We live side by side with seagulls the size of large dogs so how could you not acknowledge them! I also love scary films and find their imagery very iconic.

What is your favorite product that you've made: Probably my teapots. I use the Pavilion one at home. Makes me feel Royal! I also love making things that make people smile. At craft markets people tend to find the Shark & Chips plate quite funny.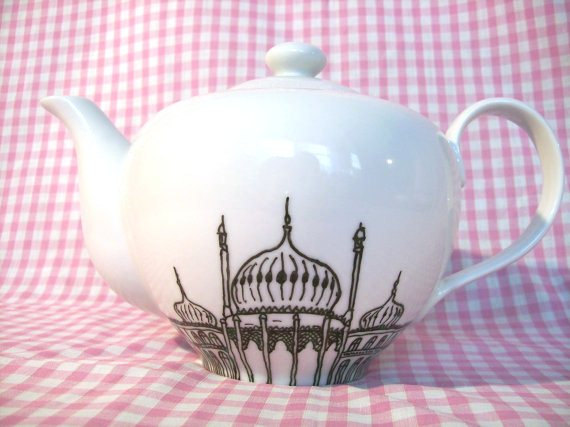 Do you have any plans for future products: I started off painting and drawing on paper and canvas so I plan to get more into that again. I'll stick with the seaside theme and maybe mock up some tourist posters. I love the look of the ones from the 1930′s done in the Wish You Were Here postcard style.
What's one piece of advice you would offer to new Etsy sellers: Be genuine. Etsy and any business takes a lot of work. With regards to your products you need to constantly update and change things up. Make something you love and that's quality and people will love it too. Give each item a story. Then you can work on building relationships and getting your name out there.
Any special promotions/deals you have going on:  I have promotions and little giveaways going on now and again.  Usually on a Friday to celebrate the weekend, so check out my Twitter and Facebook page for updates!
Where else can we find you?  Twitter // Facebook 
And a giveaway!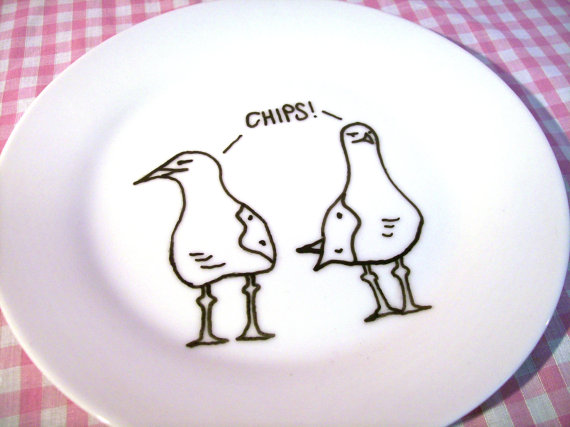 Signature Brighton Crock plate: the big 23cm version of Seagulls & Chips
–Enter after the jump!–