Today I have a little feature and a giveaway from this month's feature sponsor: Pavé Life. If you haven't signed up with them already, do so soon! They're currently offering a FREE $20 credit to new members. Since many of their offers are less than $20, you could have a night out for free – how cool is that?! It's free to join as well, making it an even better deal.

Nathan and I don't go to  many shows or events for one reason: we're cheap. We like to find a good deal and hardly ever pay full-price for entertainment outside of the home. We either go because we found an awesome deal or we stay home. This sometimes (aka: most of the time) means we live really, really dull lives. Pavé Life easily solves that.
Pavé Life truly has something for everyone when it comes to entertainment. Like museums? Comedy clubs? Orchestras? Ballet? They have something for you. And that something is a deep discount on tickets so you can do even more on your nights out of the house. I'm hopeful that they'll have some more deals in Florida when we move because I'm determined to live a more cultured life when we move out of the beer and cheese state. I'm also really excited for their package deals that are coming soon so you could just book your entire evening (entertainment, food, and hotel) all in one place!
A little about them from their Facebook page:
Experience the Arts with Pavé Life, Your Exclusive Online Source to Local Arts & Cultural Events at 40-65% off Tickets & Experiences.
At Pavé Life, we present you with exclusive offers on high-end luxury entertainment, including the greatest operas house tickets from San Francisco to Palm Beach, the best ballet tickets from Boston to Seattle, the most popular orchestra concerts from San Diego to Miami, exclusive museum events from Houston to Chicago, as well as theater ticket offers from Napa Valley to New York, plus exceptional dining and premium hotels—all at prices that are irresistible.
We believe life should be full of glittering events, replete with arts and cultural experiences that make you feel fantastic to be alive—and so smart that you got a great value.
Find them on the web:
Main Site | Twitter | Facebook | Pinterest
and it's your lucky day because they are offering one lucky winner $50 credit!
That's $70 to spend if you are a new member and sign-up today to get their FREE $20 credit today!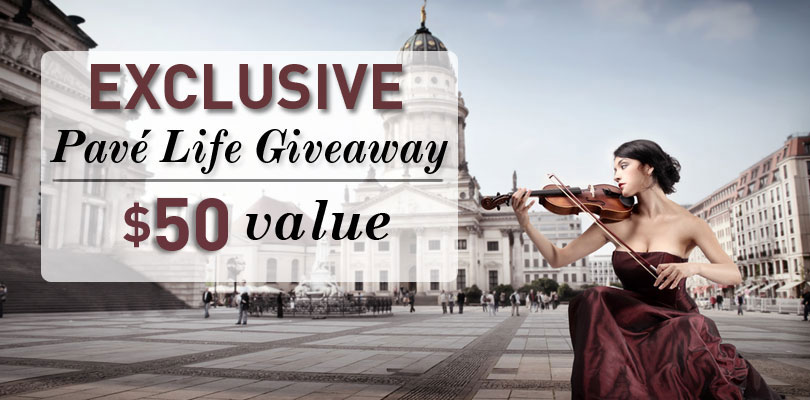 enter after the jump!