Recently I've had the itch to revisit a side of me that's not often seen on this blog, or even in person. A side that's generally reserved for my husband, since he knows me better than anyone in the world. A playful, fun side of me that breaks boundaries and does something off of the computer.
Insert the need to tackle something I've dreamed of doing for almost 10 years.
Ever since I became a vegetarian, I've been interested in taking steps to lessen my footprint on this planet and live a healthier, more satisfying life. That led to living a greener lifestyle and Environmental Management courses. It led to supporting cruelty-free companies and reading product labels to ensure I knew what I was using or consuming. And now it's leading me to a whole new journey that I truly feel picked me long before I picked it.
Come September, I'll be the proud owner of a brand new shop: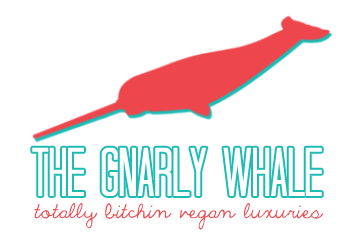 The Gnarly Whale will have vegan beauty, bath, and body products in an assortment of scents and flavors. It's fun, playful, and totally delicious. Our goal is to provide vegans (and non-vegans who just love things that smell and taste good) low-impact, minimal ingredient beauty, bath, and body products all in one place. Our hope is to have as many products for the dudes as we do for the dudettes and to add some fun flair to your daily products.
We don't have a specific launch date yet, but we'll be posting new updates here as they come! If you'd like to help us out and answer a quick 4-question survey (5 if you want to input your email to be notified when we launch and receive a coupon code) – we'd love your input! Just click the button below and it shouldn't take you more than 30 seconds. :)