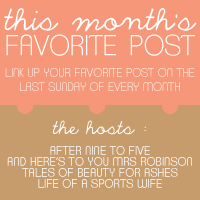 We're bringing back This Month's Favorite Post Link-Up and it's better than ever! Be sure to check out the hosts to find out their favorite posts this month + other blog posts from the link-up! We also have some new permanent hosts and an awesome giveaway to help kick things off! Check out the entry form under the link-ups for the various ways to enter!
Permanent Hosts:
Ashley from After Nine To Five | Megan from And Here's To You, Mrs. Robinson
Becky from Beauty for Ashes | Jessa from Life of a Sports Wife
Rotating Hosts:
Sarah from Simply Dove
My favorite post of the month is:
The Biggest Change In Advertising
Link-up and enter the giveaway below the jump!
- – -
Today's Thought: I can't believe it's almost September! That means it's almost Halloween!!